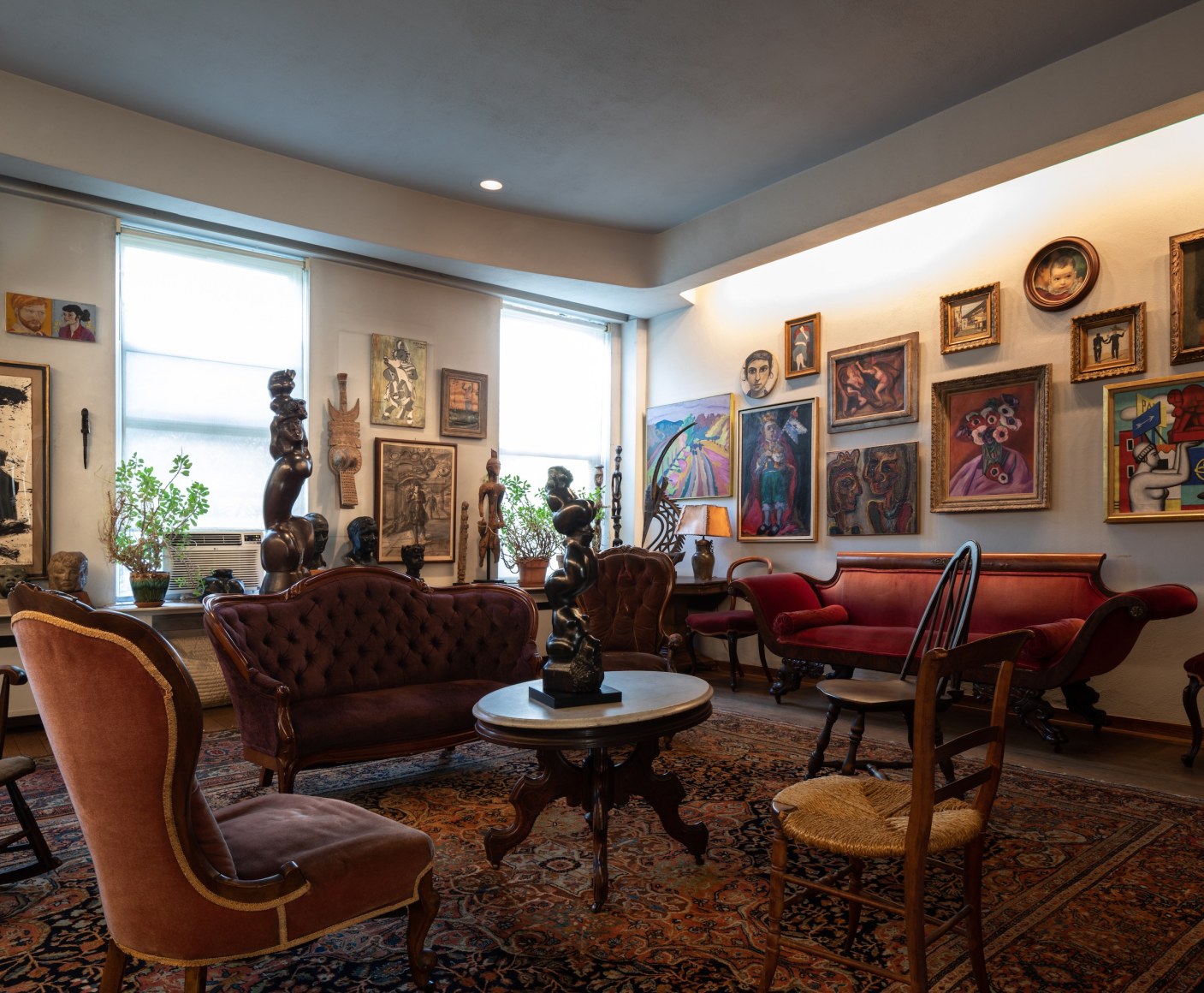 Third floor living room, photo by Elizabeth Felicella
Chaim and Renee Gross purchased 526 LaGuardia Place in 1962, after living and raising their family of two children (artist Mimi Gross and engineer Yehudah Gross) on the Upper West Side for over twenty years. The four-story brick building, located just south of Washington Square Park in Greenwich Village in the heart of New York University's campus, was designed by Joseph M. Dunn and built in 1873 with a ground floor storefront and loft spaces above. The Grosses converted the building from industrial to residential use while adding a sculpture studio and gallery on the ground floor. Gross worked with Modernist architects Arthur Malsin and Don Reiman to design the extensive renovations to the building.
The studio, which remains as it was during Gross's lifetime, is the only space of its kind in New York City. It was designed by Gross himself, who laid in the intricate wood floor and constructed the dramatic skylight. The studio exhibits major wood, stone, and bronze sculptures spanning sixty years, and is a testament to the life and process of the artist. The studio on the ground floor connects to the first floor's permanent installation of Gross's sculpture originally designed as a gallery for his work. The second floor houses an intimate temporary exhibition space, while the third floor remains a living/dining area featuring a period, Salon-style installation of the Gross's extensive European, American, and African art collections.
To rent the building for private events or photograph and film shoots, please contact Sasha Davis, Executive Director, at sashadavis (at) rcgrossfoundation (dot) org or (212) 529-4906.